You can download Epson L210 printer driver here, there are all versions for Windows and Mac OS operating systems.
When the Epson L210 printer has an error that cannot print or cannot be found in the list of printers in the Print box when you place a print job (Ctrl + P)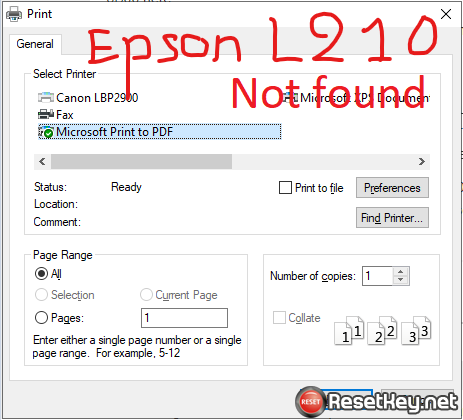 You should check if the computer has installed the Epson L210 driver or not, or maybe the Epson L210 printer driver is faulty.
If you do not have a driver, you should download and reinstall the printer driver on your computer to be able to use the printer.
Download Epson L210 printer driver
All link download from freeprinterdriver.net are safe, we get the link from oficial Epson server.
About Epson L210 printer driver? What is driver? why we need?
Before using the printer, you need to power up the printer, and connect the printer to the computer via a USB cable to transfer data back and forth between the computer and the printer.
However, that is not enough because to be able to communicate with each other, the Epson L210 printer and the computer need a middleware (called a printer driver) that plays the role of transferring commands between the printer and the computer.
Without the printer driver, the computer and the printer cannot communicate with each other and you cannot print.
So the role of the printer driver is very important, as soon as you have a new printer or use a new computer to print with a certain printer, the first thing you need to do is check if the driver is there? if not, need to download and install Epson L210 printer driver immediately.
Download Epson L210 driver for Windows links
OS:
Windows XP, Windows Vista, Windows 7, Windows 8, Windows 8.1, Windows 10
Windows 32bit
Windows 64bit
Download Epson L210 driver for Mac OS links
OS:

Mac OS X – PowerMac, Mac OS X – Intel
Link from Oficial page: Visit here
Good luck!